Super Hi-Vision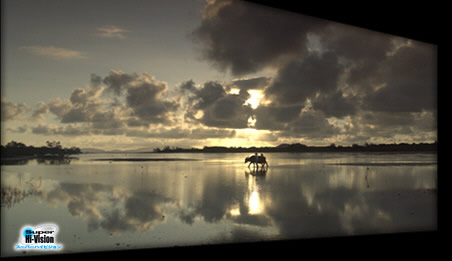 Thank you, Japanese taxpayers, for subsidizing the development of what we'll expect to see in about ten years. 16 times better than today's HDTV.
NHK's Super Hi-Vision provides 7,680 x 4,320 pixel (32 million pixels) images at 60 progressive frames a second, with 22.2 channel immersive audio. By contrast, today's HDTV offers 2 million pixels in 1,920 x 1,080 scanning system.
They had a live feed from London to the IBC show in Amsterdam earlier this week. What was the reaction? "Dude, I need a bigger wall!" The Hollywood Reporter used the word "agog" in their headline:
NHK's developing Super Hi-Vision system was the subject of a stunning demonstration Monday at the IBC. SHV offers 8K resolution — 16 times that of HDTV — with a 22.2 channel surround sound system.

Delegates waited in long lines for a glimpse at the scenic images, which were broadcast to Amsterdam's RAI Convention Center in two ways: From a live camera in London over a fiber connection and from a server in Torino, Italy, via satellite.
What kind of set-up/config are we talking here? Big broadband, accoriding to EE Times:
In London, the camera and audio mixing is operated by SIS Live (formerly BBC Outside Broadcasts). Siemens IT Solutions and Services, the BBC's technology partner, has built a control room that includes a bank of 16 MPEG-2 encoder channels which compress the native 24Gb/s of Super Hi-Vision to 600 Mb/s.

Siemens carries this, without any modulation, together with data, communications and reverse video and audio feeds, to Cable&Wireless, which is providing a gigabit Ethernet fiber connection from London to Amsterdam.

Besides the output of a live camera and microphone array in London transmitted over fiber optics connection, the BTF group is also showing content from a local server located in Torino, delivered to Amsterdam live over satellite.

RAI and Eutelsat provided Super Hi-Vision material live, using DVB-S2 modulation with "a channel efficiency that approaches closely theoretical limits," according to the group.

The Super Hi-Vision video and the 22.2 multichannel audio are coded using H.264 and AAC respectively. The 140 Mbits per second coded signal is then carried over two satellite transponders, using 8PSK 5/6 modulation.
Two transponders? Cool. Maybe they'll start using the Kizuna satellite for these broadcasts.
Japan Inc. magazine gives a unique perspective, noting HD in Japan is nothing new:
"The public and private sector cooperation has been such that ordinary Japanese people don't necessarily think of HDTV as anything special," says NHK engineer Kenji Terada, noting that 93% of Japanese households already receive HDTV broadcast signals, thanks mainly to the country's BS satellite service (BS-hi), which came online in 2000. The One-Seg system for mobile receivers (cell phones and car navigation systems, and so on) has been up since 2006.
Here's a video with good background on the topic: