RB Has Left The Building
Rob Bednarek passed into the next life over the weekend.
Mr. Bednarek had been an industry innovator and leader for over 30 years and held a bunch of U.S. patents related to Global Positioning System (GPS). Mr. Bednarek led entrepreneurial organizations, major public and private companies including the Corporation for Public Broadcasting and PanAmSat. As the engineering and technology leader for PanAmSat, he was instrumental in the success of the world's first competitive international satellite operator before its acquisition by Intelsat.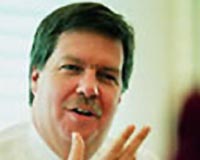 He joined SES in 2002 to run corporate development, where his tit-for-tat emails with Dean O. became legendary. In 2006 he was rewarded with the title president and CEO of SES NewSkies (changed to WorldSkies in 2009). Under his management, NewSkies swallowed Americom to become SES WorldSkies. His leadership was recognized not only for his management and technology strengths, but also for the dignity and respect with which he treated his clients, peers, colleagues, and co-workers.
R.I.P.
Tags: bednarek, gps patents, panamsat, ses