Laser Tag in Space
Goddard's Laser Ranging Facility aiming laser toward LROGoddard's Laser Ranging Facility directing a laser (green beam) toward the LRO spacecraft in orbit around the moon (white disk). The moon has been deliberately over-exposed to show the laser. Credit: Tom Zagwodzki/Goddard Space Flight Center
This is pretty cool, via NASA GSFC:
On certain nights, an arresting green line pierces the sky above NASA's Goddard Space Flight Center in Greenbelt, Md. It's a laser directed at the moon, visible when the air is humid. No, we're not repelling an invasion. Instead, we're tracking our own spacecraft.

28 times per second, engineers at NASA Goddard fire a laser that travels about 250,000 miles to hit the minivan-sized Lunar Reconnaissance Orbiter (LRO) spacecraft moving at nearly 3,600 miles per hour as it orbits the moon.

The first laser ranging effort to track a spacecraft beyond low-Earth orbit on a daily basis produces distance measurements accurate to about four inches (10 centimeters). For comparison, the microwave stations tracking LRO measure its range to a precision of about 65 feet (20 meters).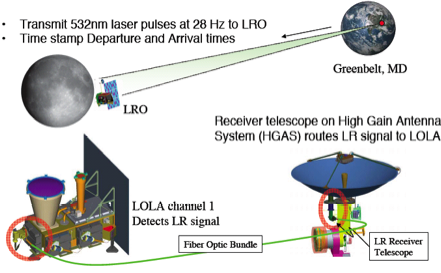 Read more about Lunar Reconnaissance Orbiter Laser Ranging Support, and check out this time-lapse photo video…