Satcom: We Don't Suck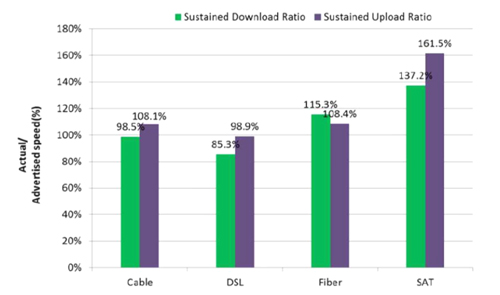 For years, Internet by satellite was deemed "acceptable" by those who couldn't get broadband by other means. Satellite operators have known for 20+ years that Ka-band was good for data, but nobody had the balls to really make a financial and operational commitment toward achieving commercial and/or technical success. Hughes, Starband, Wildblue and a host of 2nd and 3rd tier resellers tried to make a go of it, but nobody could get the cost of satellite bandwidth down to a workable level.
When satellite operators are getting 80% EBITDA margins from video distribution, why bother?
ViaSat set out to change perceptions by working the technology to make it work. They're winning.
Mark Fidelman put together a solid piece in Forbes last week that should have been written 15 years ago — if big satcom walked the talk back then. He sat down with ViaSat CEO Dankberg and got into the details:
Most people would assume that the bandwidth issues will forever limit the size of the satellite communications market, but I'd hold off on that assumption. Dankberg explained that current satellite systems are manufactured by different vendors that build to the lowest common technical denominator. The three primary components, the satellite, the ground systems and the satellite communications service providers are all different vendors with different priorities. Which means that the entire communication system is not optimized. These systems are like a large truck with a lawn mower engine meant for a race car driver.

"So what we've done is developed all three of those areas. We build the ground system, we design the satellites and we operate them, so we know what we need," Dankberg explained, "Since we are the architect of all three, we can completely integrate and optimize the system."

Dankberg told me that ViaSat-1 used existing space components, and sub-systems, but that ViaSat-2 will have a better design and thus optimized architecture. He believes it will be twice as fast as ViaSat-1 which means it will provide even greater competition with high speed cable and DSL providers.

That means anyone anywhere could have their own high speed communications antenna. Essentially filling the gaps that current providers can't fill due to regulatory or terrestrial issues. Yes satellite communication technology still operates on higher frequencies which don't propagate walls very well. But Dankberg says in those situations antennas on cars, busses, trains, homes and commercial buildings will convert the signal to lower frequency Wi-Fi which is better able to penetrate the interiors of buildings.

Has anyone noticed that when you need higher bandwidth the most, it never seems to be available? I'm thinking about those situations where streaming video, uploading and downloading media are essential but are slow due to network congestion. Dankberg's solution was to develop a type of artificial intelligence: "One of the things we did to make our network faster is develop software to figure out what you are doing, and deliver it faster that you otherwise would get -because we can anticipate what you're going to do," Dankberg said.
Satellite's gotten such a bad rap that Exede partner Dish Network barely mentions the word on its website. And not at all in TV spots…
Mark Dankberg and his team are real innovators and us rocket scientists are glad to see this part of his business meet real success.
Tags: dankberg, dish network, exede, surfbeam, viasat-1, wildblue