Saturday, January 25th, 2014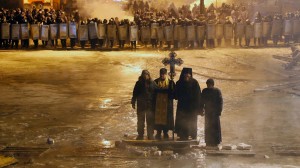 From an American living in Kyiv, Ukraine, on the morning of 25 January 2014…
Good morning USA. As of 14:30 Kyiv time, Saturday. First: There was no clearing of Maidan.
I wish I had better news but the situation in Ukraine continues to escalate and is extremely fragile. I'll try to keep this update to the facts…mainly reported on Ch.5, and identify rumors as such. I'll let the conclusions and speculation as to what happens next be up to you.
ANOTHER ACTIVIST DEAD
45 year old Roman Senyk, from western Ukraine died from injuries sustained in the 22.Jan Berkut attacks on Hrushevskoho Street. His 'chest cavity' was operated on twice and his arm was amputated.
THE COURTS HAVE BEEN BUSY
17 Automaidan Participants have been sentenced to 2 months in prison
2 to home arrest (including a 72 year old activist)
MAIDAN IS SPREADING ACROSS THE NATION
Regional Administration Buildings (Like state government/governor's offices in the US) are being forcefully taken over by protestors. The situation is evolving rapidly.
7 out 26 Oblasts (Regions) are now controlled by the "Narod" (the People).
11 are besieged/blockaded by protesters.
5 have active protests at their doors
2 are quiet (Donetsk and Luhansk)
KYIV MAIDAN – FIRES AND PITCHFORKS
In Kyiv, the tire fires have been burning since last night. Activists that get covered with water from government firehouses are receiving changes of clothes brought to them right to the front lines by other activists. Channel 5 showed footage of tires and supplies of pitchforks, yes pitchforks, being unloaded from activist cargo transport vehicles. Retired Gen. Hrytsenko recommended that those who have registered firearms, wear them on their person if they go to Maidan as the govt is snatching people left and right. He poses the question: "Why should we not defend ourselves?"
Rumor: on Hrushevskoho, activists have spotted police entering the back entrance of "Dim Ukrainy" (Ukrainian House) on European square. It has long been rumored that this building is packed with Berkut. The protesters are completely exposed, from the rear, on that side of European Square. There are no barricades there to protect them or to slow an attack.
MILITIA UNITS RESIGNING
So far I can confirm entire militia units in Ivano-Frankivsk, Rivne, and Vynnytsia have flipped and apologized to the Narod. (Keep in mind there are officers from Yanukovych in all regions threatening defectors with Military Tribunals if they resign). Rumors: Founder of PoR resigned (?), many judges are resigning (?)
THE GOVERNMENT
Yanukovych spoke on TV last night with a tragic and sad disposition [no comment or i'd have to use expletives] about people suffering. How willing he is to talk to the opposition to reach a peaceful solution. How the opposition is rejecting his appeals. How he will be forced to take legal measures, etc…
The leader of Automaidan, Bulatov, has still not been found. The other Automaidan guys have offered 10,000 USD for information leading to finding him.
People keep disappearing from the streets and hospitals (Doctors are getting SBU phonecalls asking for reports about patients). Seven students (art/film students) were snatched off the street – not on Maidan. Status unknown. Three men were arrested during the night for having tires in their cars.
Zakharchenko (Interior Minister/top cop) released information (words) that one police officer has been killed by Maidan activists and two have been kidnapped and are being held in the Kyiv City Admin Bldg controlled by activists. Maidan is denying this information.
Zakharchenko stated that negotiations with Maidan activists have proved futile. That the activists are accumulating fire arms. He said he is being forced to take action by all methods at his disposal.
SIGNS OF RUSSIAN INVOLVEMENT
A military analyst reviewed activist debriefs after torture and intimidation sessions and identified Russian FSB techniques used in Chenya and other countries. Those released activists reported strange regional Russian accents.
DID I MENTION IT'S COLD?
I know many of you in America have also been experiencing bitter cold. It's REALLY cold here. -20, -21deg C (-5 degF). The kind of cold where the inside of your nostrils freeze with each inhale. Where the three layers you are wearing feel paper thin. Where the rubber soles of what you thought were badass, sh** kicking, boots freeze so solidly that it feels like you are ice-skating. Where your exposed face between your scarf and hat feels numb within minutes. NOTE: some of the automaidan guys were forced by Berkut to kneel in the snow two nights ago for 1.5 hours without their coats. The protesters have incredible RESOLVE and attitude.
The NAROD needs your prayers and support now more than ever.
SLAVA UKRAINI!!