Friday, January 16th, 2015
We like upcycling. When it includes old satellite dishes, we love it!
Using a couple of old C-band mesh antennas to make an alien spacecraft in your backyard is brilliant and worth sharing.
The idea for this project had been milling around in my brain for awhile… I had visualized taking two satellite dishes, preferably 2 of the fiberglass type and slap them together like 2 pie plates to form a traditional saucer shape. The first task I had was to find suitable dishes to salvage for the project. I drove around whenever I had time to watch out for candidates, and I watched Craigslist and other sources of ads on the Internet. I live just outside the city limits, and had plenty of countryside to travel around. I also kept my mind open to the possibility of using the metal mesh dishes as well, thereby doubling my chances of finding what I needed.

Eventually, I placed an ad on Craigslist asking for a dish, and voila! I got a bite! It turned out to be a mesh dish in the city but just a few minutes away. I went over on a Sunday afternoon and it took an hour and some elbow grease to dismantle the dish and load it into the back of my pickup. I should mention that even if I couldn't use the mesh dish, I could always take it to the recycling center and get some cash out of it! Ironically, I found a fiberglass dish about a mile from home, and after a couple of tries, I finally met the home owner, who said his wife had been asking and asking and asking him to remove the dish. Sounded like I arrived just in time! This one took about TWO hours to take off the mount and take it down to 2 halves and strap them down to my utility trailer. Note: It helps if you have some assistance to dismantle these things, they are HEAVY as all get out! After bringing them home and laying them out in the back yard, I pondered what to do about the situation, as time was marching on and I was tired of looking for dishes.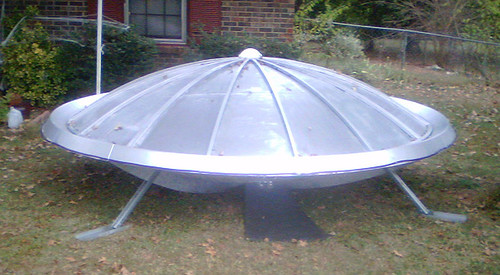 Get out there and make your own!