India – manned space flight?
A months ago, we discussed Ukraine's new space program — including its plan to independently launch three new satellites. While we are not seeing a new space race, the list of minor players (beyond the usual U.S.-Russian dominance) is expanding rapidly. The European Space Agency is implementing a number of new programs, from the Galileo positioning system, to the Herschel Space Observatory, to the ExoMars mission.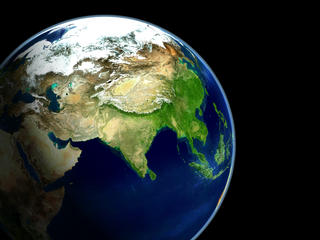 Now, India plans to join only the U.S., Russia, and China in sending humans into Orbit. Russian news-agency, ITAR-TASS explains:
India will invest within the coming five years some 1.5 billion U.S. dollars in the development of a set of technologies to carry out a manned space flight by 2015. Chairman of the Indian Space Research Organisation (ISRO) ManhaVan Nair said that most of the designing, research and technical jobs would be completed already within the current five-year period – up to 2012.

According to the ISRO-endorsed project, an autonomous orbital reusable space apparatus is to be developed to carry out the first such Indian mission. It is to be launched by means of an Indian-made GSI.V rocket. Nair admitted in his interview, published here on Monday, that Indian experts were yet lacking the necessary experience to build vehicles guaranteeing human safety on board. It is also necessary to increase the dependability of the booster rocket, which was earlier develop to place heavy satellites on a geosynchronic orbit.

ISRO is hatching some other ambitious plans, too. "The leading global space powers have already announced their preparations to set up manned bases on the Moon in 2020," Nair noted. "We believe India should not lag behind them," he added.

The "Chandrayan-1" project, envisaging the launching of an unmanned space vehicle to explore the Earth's satellite, will be the first step "towards the moon" approximately a year later, stipulated by the Indian space program. The exploration vehicle with a net weight of 560 kilograms is to be lifted by a PSI.V booster from the national launching ground on Shriharikota Island, which is off the coast of the southern state of Andhra-Pradesh. Placed on a round-the-moon, it will take photographs of its surface. The experiment is expected to last about two years. It was earlier reported that the Russian Roskosmos Agency, as well as NASA and the European Space Agency, were invited to take part in the preparation of the Chandrayan-1 project. According to ISRO sources, the preparatory work is proceeding according to schedule. Several of the Chandrayan-1 components are already being tested.